Gastronomy edition 
We know that when you are a French expatriate abroad, what you miss the most is often... food! The cheese, the little cookies of our childhood or the good wine.
To stop overloading your family at each visit, here are 5 sites to buy the French products you miss and to be delivered with Easy Delivery. 
Our advice before ordering food products
Some rules to respect to send a package containing food: 
It is not possible to send

fresh food

in a standard package. Indeed, the packages pass through several warehouses during their routing. They can therefore be subjected to different temperatures that do not allow to keep the food fresh.

Give preference to dry foodstuffs or foodstuffs with a long expiration date. This will avoid a disappointment if the package is stuck for a few days at the customs for example.

Importing cheese and/or cold cuts can be very restricted depending on the country you live in. Remember to check with your local customs before ordering 15kg of sausage!
Ordering food products in France when living abroad
Supermarket websites 
If your parents are a little tired of shopping for you, you can order directly from the supermarket websites. Your groceries are then delivered to the Easy Delivery warehouse to be shipped worldwide.
You will be able to go to Carrefour, Auchan or Monoprix and shop as if you were there. So your favorite brands and hundreds of French references are at your fingertips!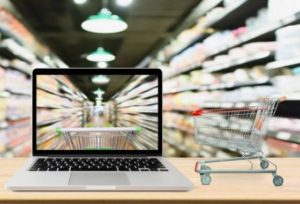 First and foremost and for the most gourmet among you, the sign that comes to mind is la Grande Epicerie. A French reference in terms of delicatessen, with nearly 30,000 products on offer. This Parisian temple of delicacies has a very complete website, with sweet and savory products and a "cellar" section. 
The most : gift boxes to compose, to taste an assortment of exceptional products. 
A name that could not be more meaningful! Bienmanger.com makes it a point of honor to find the best of the French regions. In addition, the 11,000 or so products offered on the site are selected from small, well-known producers. 
Among the delicacies offered, you will find delicatessen products, charcuterie and a space dedicated to wines and spirits. 
A name that comes up a lot in the world of delicatessen. If you already know l'enseigne thanks to its stores, it also has a website. This one allows you to access the most exquisite products: foie gras, caviar and truffles. Ideal for a Christmas Eve or a special occasion. 
Nevertheless, remember to check the import conditions of these products with your local customs. 
If we tell you macaroons, chocolate and spreads... You answer us? Fauchon of course! The brand, well known for its luxury pastries, offers to find its know-how, almost legendary, on its website.  To satisfy your demanding taste buds, several categories of products are proposed: macaroons, teas, chocolate and confectionery... The ideal for a small attention or a big gourmet gift!
In short, a thousand and one ways to find your culinary happiness and the French products you're missing. And the best news of all: Easy Delivery delivers your online purchases all over the world, yum!